Commerce
6 Ways to Optimize Online Ordering for Restaurants
January 28, 2020
The best ways to use your restaurant website to promote and increase direct online orders.
For restaurants that use third-party online ordering services such as Grubhub, DoorDash and Caviar, forfeiting 20-30% of revenue from each order can be taxing on profit margins. However, due to the current landscape, many restaurants accept this as the status quo. It doesn't have to be. There is a solution: direct online ordering through your restaurant website. 
By promoting and marketing that you accept online orders directly through your website, it's possible to release your business from the grips of sharing profits with third-party marketplaces. Converting repeat visitors to order through you is simple. This is the future for maximizing sales and optimizing the takeout/delivery side of your business—all while providing higher profits per order and giving you control over the guest experience. 
Here are 6 ways to optimize online ordering for your restaurant.
1. Set Up Homepage Alerts
Use your restaurant website to set up homepage alerts, prompting web visitors to order directly through your website. Alerts are a feature that captures attention and drive action on the pages you choose, through either a banner alert or an overlay like the one below. If you're a BentoBox customer, this is simple to set up through the backend of your BentoBox website. You can go to any page on the BentoBox backend, click "Edit" and turn on an "Alert." When setting up a homepage alert, be sure to add a link to your online ordering store so that guests can easily access your store when visiting your site.
Additionally, there are more ways to convert website visitors into paying customers. Set up a promo code that guests can use to apply a discount on their order. You could also call out a promotion offering a 15% off for a limited time only, by ordering through your website.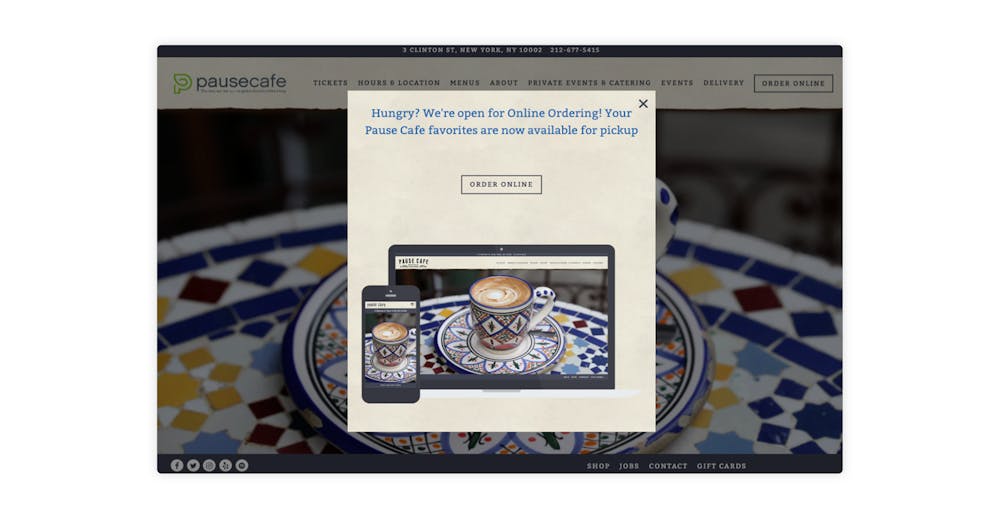 The homepage alert for Pause Cafe promoting direct online ordering.
2. Use Email Newsletters to Promote Direct Orders on Your Website
As a consumer, do you receive emails from third-party online ordering platforms like Grubhub and Caviar? They typically seem to happen just before lunch or dinner, right? 72% of diners said that they like to receive emails about new menu items from restaurants that they subscribe to.
Use your list of email subscribers, who are loyal to your restaurant, to promote online ordering prior to peak dining times. Send a promo code to your database one hour before your busiest time of day and the most popular day of the week. You can also promote during slower periods if you're already running at max capacity during your busy hours.
This is an opportunity to reach your most loyal customers to drive orders online. A benefit of partnering with BentoBox is that we offer email marketing services as well as templates for email newsletters to use for your business.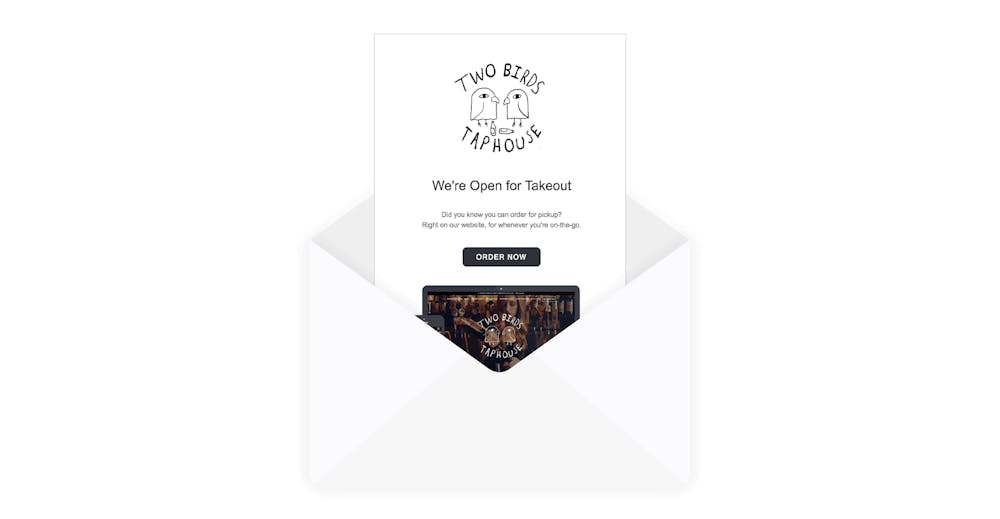 The email newsletter template for Two Birds Taphouse.
3. Include Photos of Your Menu Items
People eat with their eyes. New visitors or those who are just finding your restaurant online are interested in ordering from you. It's important to capture their attention by providing high-quality, drool-worthy photographs. This helps convert those guests to order.
Using photography for individual items can increase sales by 6.5%. If you don't have access to a professional food photographer to photograph your individual menu offerings, we suggest using a high-resolution phone camera and placing each item on a white plate or another solid-colored background. This creates contrast, which highlights your items best.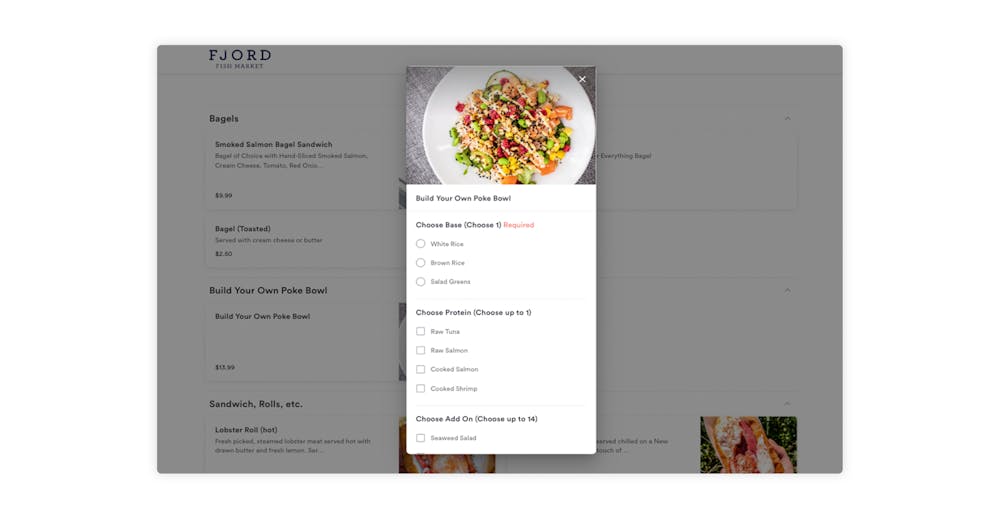 The online ordering marketplace for Fjord Fish Market's website.
PRODUCT
Online Ordering for Restaurants
Drive more revenue with unified, branded, commission-free online ordering.
4. Write Enticing Menu Descriptions
Along with photos of your dishes, lure your guests with descriptive menu copy that will help drive more orders and convert more online visitors into paying customers. Fun, enticing menu descriptions can be part of your brand image and tone of voice—which promotes customer loyalty.
By adding adjectives and source names, individual menu items stand out on the page. For example, if you source meat and produce locally, call out the type of cut (Porterhouse Steak), the strain of produce (heirloom tomatoes) and the name of the farm that it's sourced from. This level of detail helps educate and inform your guests' decisions best.
Fjord Fish Market, in Connecticut, does a great job of providing mouth-watering descriptive language to each menu item. Here's an example of the description for their Lobster Roll:
"Fresh picked, steamed lobster meat served hot with drawn butter and fresh lemon. Served on a grilled New England style bun. All sandwiches served with french fries & fresh coleslaw."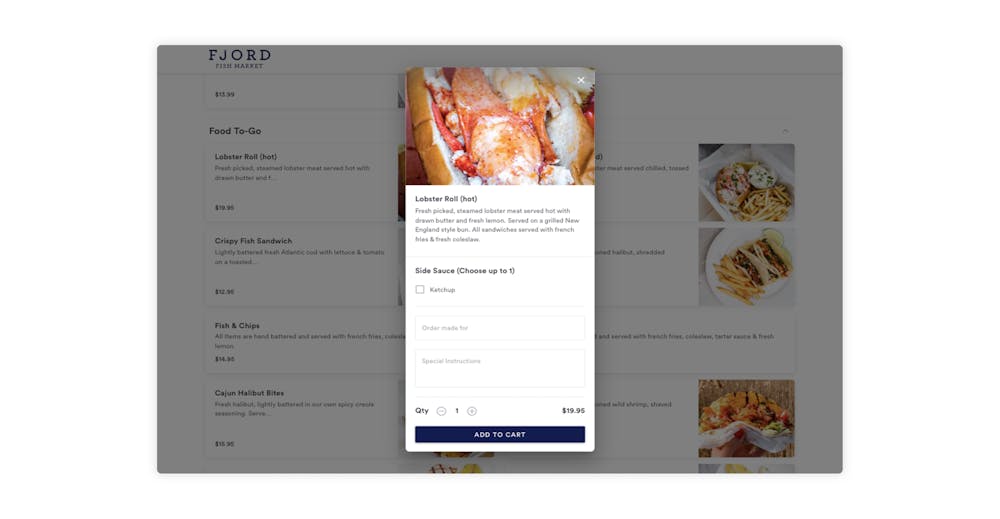 Menu description for the Lobster Roll at Fjord Fish Market.
5. Promote Popular Menu Items on Social Media
Do guests come to your restaurant for your renowned burger? Is it your most ordered item? Use your social media channels to promote that you now can order popular items directly on your website. Social media promotion will drive more qualified customers to your website. If they already follow you, they are more likely than others to order through your website, increasing revenue and sales.
6. Use Printed Drop Cards in Your To-Go Bags
Convert users to begin ordering through your website instead of a third-party. Do this by designing and printing drop cards to slip into each order you send through a third-party delivery service such as Seamless or Uber Eats.
Try offering a promo code on the drop cards. Make them adhere to your brand. Get creative with the copy. This is an easy and cost-effective way to market to customers who are already ordering from you. By partnering with BentoBox, operators receive printed marketing materials to get started, including drop cards with your logo front and center.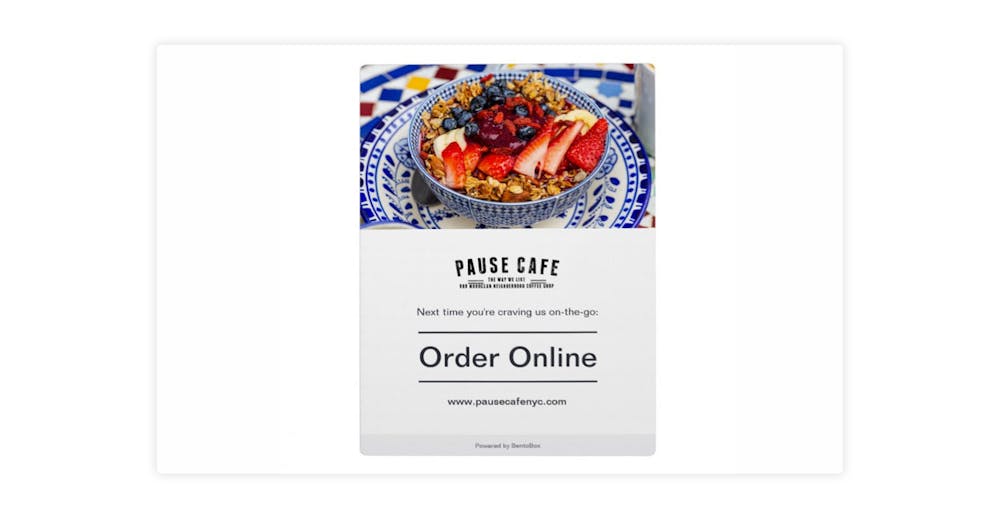 Printed marketing drop cards for Pause Cafe.
The Takeaway
These examples will ensure that you are optimizing online ordering for your restaurant and converting guests to order directly through your website. Once guests experience the ease of ordering online through your restaurant website, they will remain loyal to it going forward. If you're interested in learning more about direct online ordering for restaurants, get in touch with us or sign up for a demo below.
Demo Request
14,000+ restaurants trust BentoBox
Increase your profits and elevate your guest experience with a digital storefront that keeps diners coming back.
Recommended