Commerce
Direct Online Ordering System Advantages for Restaurants
July 30, 2020
The many benefits of an online ordering system through a restaurant's website.
The restaurant industry is in the midst of a crisis brought on by COVID-19. Online ordering for pickup and delivery is a solution and crucial lifeline for restaurants to boost their bottom lines and keep their doors open.
However, third-party marketplaces are making it more difficult than ever for restaurants to turn a profit. With covers such as, "Restaurants are barely surviving. Delivery apps will kill them."
Diners are more aware of the financially-strained situation that restaurants are in. As a result, diner habits have started to change. 70% of consumers would rather order direct from a restaurant than through a third-party in order to support the restaurant. Not only does this keep costs down for the consumer, but it also drives costs down for the restaurant as well. What is the advantage of a direct online ordering system through a restaurant's website? We've outlined four powerful reasons that restaurant owners should know. 
An example of a Bento Ordering store
1. The Restaurant's Brand First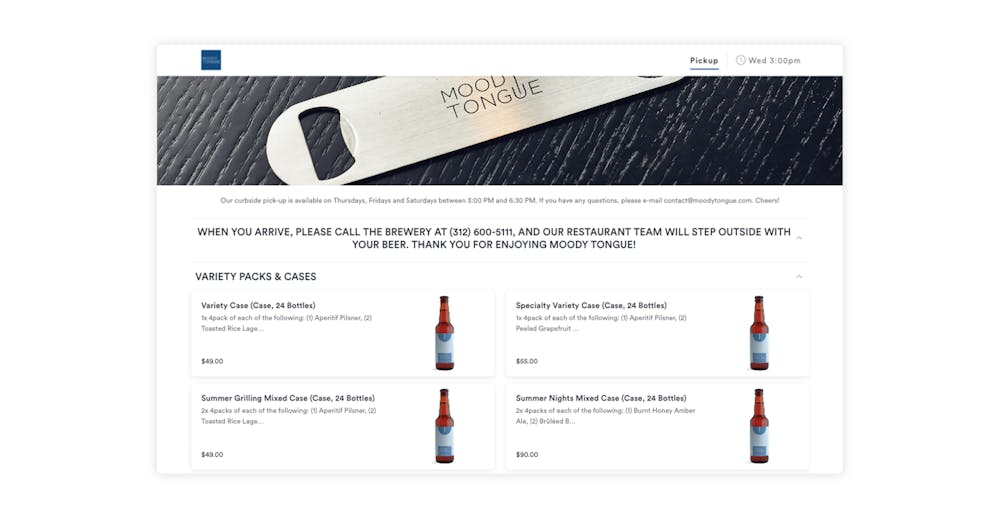 The online ordering store for Moody Tongue puts their brand first
The power of a restaurant-specific website that translates the dining experience online is well known. After all, nearly 80% of diners visit a restaurant's website before deciding where to dine. With the increase in demand for online ordering, allowing visitors to order directly through a branded online ordering store is essential. Consistent branding throughout the entire online experience drives loyalty. It's a subtle but powerful reminder that it's the restaurant giving them great service from the homepage to checkout.
The Reality: Every third-party marketplace such as GrubHub, DoorDash, UberEats, etc. put their brand first, which decreases customer loyalty and repeat business.
The Fix: An online ordering system that puts the restaurant's brand first increases customer loyalty. Guests will have peace of mind knowing that they are directly supporting the restaurant. 9 out of 10 guests complete an order with Bento Ordering, which proves the value for guests and for restaurants who want to increase order volume.
2. Zero Commission Fees
The average restaurant operates on 3-5% profit margins after rent, food and labor costs. Increasing sales is the name of the game when it comes to ensuring that a restaurant turns a profit. One way to do this is to be accessible for guests online — now more than ever.
With COVID-19 driving greater demand for pickup and delivery, having an online ordering platform through the website allows first-time and repeat guests to have quick access to what the restaurant offers — increasing sales and boosting their bottom line. What's even more beneficial is that the entry point for offering these capabilities is relatively low compared to partnering with third-party delivery platforms who charged 30+% per order placed. 
The Reality: GrubHub, DoorDash and UberEats operate on a commission fee model that ranges from the baseline service of 10-15% and tops out at 30-35% for online marketplace advertising per order. 
The Fix: For restaurants who want to streamline online ordering, they can offer an option for guests to order directly on their website for pickup and delivery at a low cost to their business. This increases sales and provides access to their offerings beyond the brick & mortar experience.
3. Control The Guest Experience
One key aspect to creating the best guest experience possible is by managing every touchpoint of their journey with a restaurant. This starts with a restaurant's online presence, making sure that the menus across various platforms are up to date and that the guest experience is translated across the website and social media.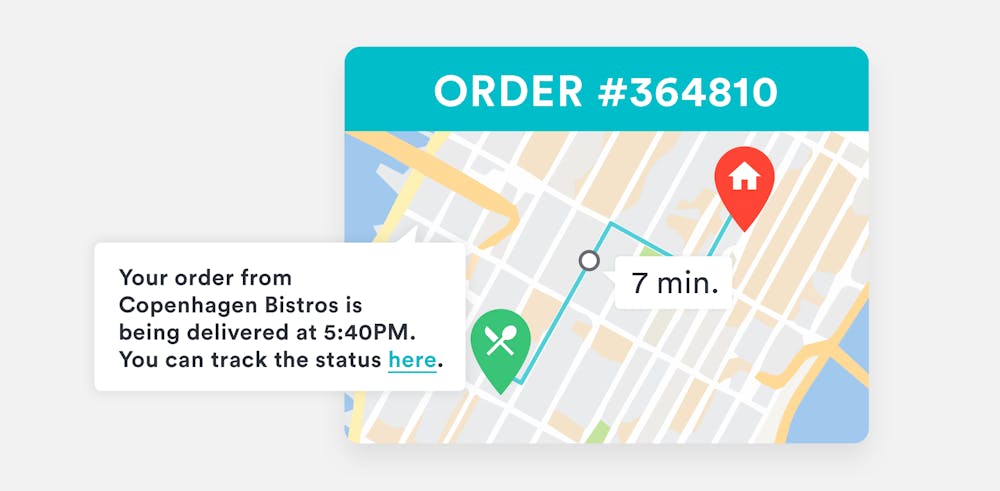 With Bento Door-to-Door, diners can track their delivery in real-time
At the brick & mortar level, service and food quality come together harmoniously to create a repeat customer. After all, acquiring new customers is notoriously expensive, so it's important to retain their loyalty and keep them coming back. By offering direct online ordering through the website, restaurants are providing a holistic, hospitable experience — from beginning to end — that will drive diners back time and time again.
The Reality: There is no control with a third-party delivery platform. The guest experience and the touchpoints involved cannot be managed, resulting in potentially unsatisfied customers, refunds, bad reviews and customer loss.
The Fix: By offering an online ordering system that guests can use to quickly and efficiently order for pickup and delivery, restaurants can control the guest experience at every touchpoint and avoid putting their reputation in a third-party's hands.
4. Own Essential Customer Data
Data is a powerful tool for restaurant owners in the modern world. Owning key information such as past order history, frequency, names and email addresses makes it beneficial for targeted marketing campaigns. With COVID-19, marketing to guests that have dined with a restaurant in the past will help drive business and consequently, revenue.

Customer database on the BentoBox backend
Unfortunately, third-party platforms that aren't aligned with your business deprive you of this essential data. Even further, these companies use this data to retarget diners to reorder through their platform, reaping the benefits while charging transactional fees in the process, lowering your potential for profit.
The Reality: Third-party platforms own important data about the restaurant's diners and target them to reorder through their platforms instead of directly with the restaurant.
The Fix: By controlling an online ordering platform directly from the website, restaurants own their customer's data. Create powerful email marketing campaigns to target consumers based on that data. For example, email subscribers with specials and new offerings. Open for patio seating? Let guests know.
An online ordering system is now an essential part of the new dining experience. As diner demand increases for online access to a restaurant's offerings, it's important to set up the services that are right for the business to drive revenue and satisfy their guest's needs.
Demo Request
14,000+ restaurants trust BentoBox
Increase your profits and elevate your guest experience with a digital storefront that keeps diners coming back.
Recommended