Opinion
4 Reasons Ghost Kitchens Will Succeed in the New Normal
September 2, 2021
The rise of ghost kitchens happened gradually, then suddenly. But don't expect them to disappear as fast as they arrived.
Delivery-only restaurants, commonly known as "ghost kitchens," existed long before COVID-19, but indoor dining restrictions propelled them to enormous growth. On BentoBox alone, we witnessed a 60x increase in ghost kitchens in 2021, and market research firm Euromonitor projects the industry could be worth $1 trillion by 2030.
Others think the ghost kitchen trend may subside when the world returns to normal, and it's easy to see their logic. Delivery-only restaurants were tailor-made for the unique environment the pandemic created. Once that environment fades, ghost kitchens could follow.
However, that logic ignores a few key factors working in ghost kitchens' favor. It wasn't just indoor dining restrictions that spurred their growth; it was a combination of industry and consumer trends, many of which had been simmering for years. 
Here are four reasons ghost kitchens will remain an important trend after the pandemic.
1. Ghost Kitchens Align With Modern Consumer Preferences
The main reason delivery-only restaurants have staying power is that diners have embraced food delivery. This may sound obvious, but the scope of it is important. According to the National Restaurant Association, more than half of diners consider takeout and delivery essential to the way they live, and Morgan Stanley projects that 21% of restaurant orders will be delivery orders by 2025 — a 40% increase on their pre-pandemic forecast of 15%.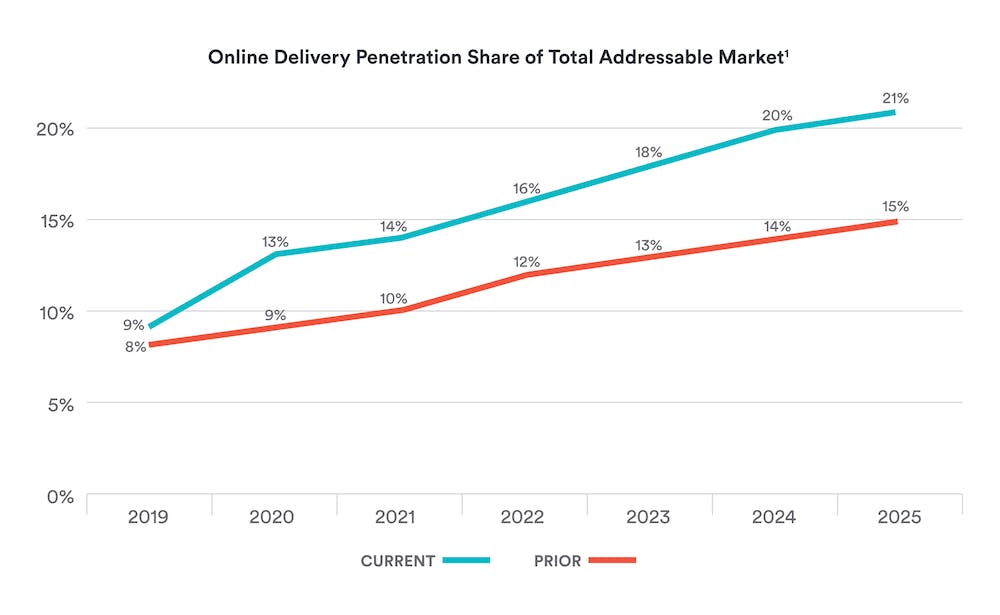 Source: Morgan Stanley, Euromonitor Research, July 2020.
As diners become more comfortable eating off-premises, their expectations regarding the off-premises experience increase. In fact, Deloitte found that when diners decide how to order their food, convenience and speed are the two largest drivers. Ghost kitchens are well-positioned to provide both of those things: Convenience because they're more likely to prioritize the online ordering experience, and speed because the spaces are designed for delivery prep.
"People love to sit at home and order food from their favorite restaurants," explained Vlad Rikhter, CEO of operations platform Zenput, which works with brands like Domino's and Chipotle. "Brands are trying to figure out how to get their products to consumers faster."
The rise of delivery-only brands is also one of the largest trends in retail commerce. Known as DTC or "direct-to-consumer" brands, the category exploded to reach over $14 billion in U.S. sales in 2019 — and that was before the pandemic sparked 10 years of e-commerce growth in three months. Companies like Casper, Away and Allbirds have conditioned consumers to trust brands based on nothing but digital branding.
"Consumers are trusting [direct-to-consumer brands] based on their digital presence alone and then ordering something that comes straight to their door," said Nikki Freihofer, senior strategist at restaurant consulting firm Culinary Edge. "At the fundamental level that's the same thing as a virtual restaurant brand."
Together, these trends paint a rosy picture for the future of ghost kitchens. Consumers have never been more open to food delivery, they want food delivery to be fast and convenient and ordering from a virtual-only brand has been normalized. None of those conditions is specific to the pandemic, so the market for virtual brands that offer fast, convenient delivery should endure when the world returns to normal.
PRODUCT
Online Ordering for Restaurants
Drive more revenue with unified, branded, commission-free online ordering.
2. The Ghost Kitchen Business Model is Profitable and Flexible
Operating a ghost kitchen requires less space and fewer employees than a brick-and-mortar does. In an industry with notoriously thin margins, ghost kitchens provide a rare opportunity to reduce operating costs and pocket more revenue from each sale. Michael Schaefer, the Global Food & Beverage Lead at Euromonitor, called this "one of the main drivers of the growth of the ghost kitchen market."
But it's not just reducing overhead that makes ghost kitchens appealing. Many ghost kitchen operators share kitchen space with other brands, which allows them to partner and share menu items. This approach doesn't work for all restaurant brands, but others see no issue with being scrappy to expand their offerings, knowing that it gives potential diners more options.
The point above demonstrates one of the key advantages of ghost kitchens: flexibility. There are various ways to operate a delivery-only restaurant, and approaches that don't work for one brand might be perfect for another, or vice versa. Commercial real estate firm CBRE outlined some of the different ways to use kitchen space, as seen below: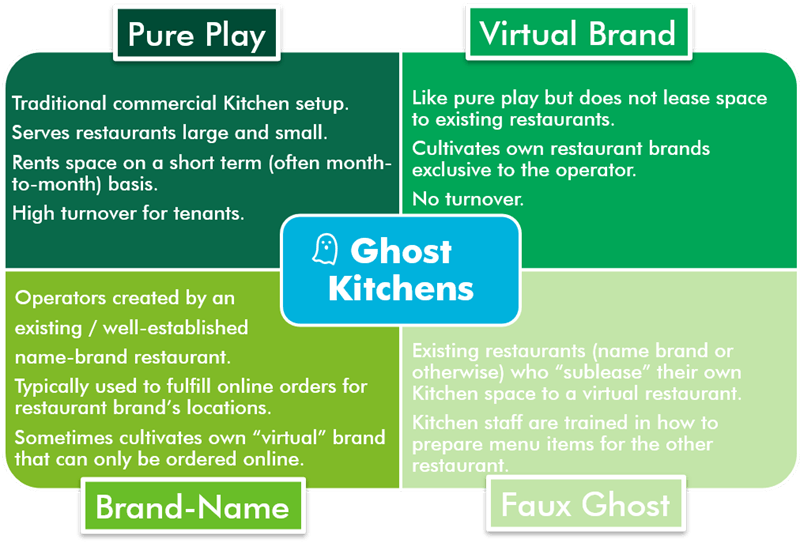 "Most restaurants aren't optimized for delivery," said Alex Frederick, senior analyst at PitchBook. "As we look at increasing food delivery, these kitchens are one model helping restaurants adapt to that trend without changing their existing real estate, while other brands are opening a digital-first space focused on kitchens and food optimized for delivery."
The flexibility of ghost kitchens doesn't just extend across restaurant brands, either. Larger brands can apply different models for different locations, depending on their strategy for the area. Frederick thinks some version of this will happen, predicting "large brands will build their own facilities in urban areas and use third-party facilities in more dispersed areas."
The delivery-only model also allows for operational flexibility. Chef and TV personality Eric Greenspan, who launched his first virtual concept in 2017, cited this among its core benefits. "With a [dine-in] restaurant, I have to be open and completely fleshed out," Greenspan explained. "Now, if I change my hours, I'm not inconveniencing anyone. I can add and take away concepts, change menu items and see what effect that has on my business."
The potential for higher margins is what piques restaurant owners' interest and encourages them to do more research on ghost kitchens. Once they do, the flexibility of the model allows them to find an approach that fits their needs — even if their needs are very different than the ghost kitchen brand down the road. All in all, it's a very inclusive business model, which makes it a good bet for future adoption and growth.
RESOURCE
12 Essential Elements of a Restaurant Website
Make your digital front of house as successful as your traditional one.
3. Ghost Kitchens Lower the Barrier for Entry and Success
Because they require less overhead — especially upfront — ghost kitchens make it easier for people to start restaurants. They are less likely to require outside capital, and they can be launched in substantially less time.
They're also easier for less-established restaurant owners to market. The old guard of restaurant media favors concepts from industry veterans, but ghost kitchens can use the DTC playbook to successfully define a virtual brand, grow that brand with paid and owned media and leverage consumer data to drive repeat orders with promotions and loyalty programs. The tools of modern marketing thus become native to ghost kitchen operators, providing a shortcut to profitability.
For example, delivery-only cookie brand Last Crumb has positioned itself as the "Rolex of cookies." Despite not being tied to a famous pastry chef, it sells boxes of 12 cookies for the seemingly audacious price of $140. But customers are willing to pay for them — so much that there is almost always a waitlist to place an order.
How did they create this type of demand for "luxury" cookies? In addition to having a great product, they borrowed brand elements from iconic luxury brands such as Tom Ford and Yves Saint Laurent, adapted the idea of inventory drops from companies such as Nike and Supreme and invested in details like packaging to drive word-of-mouth.
"When someone receives the best cookies they've ever had, which also comes in the most luxurious packaging they've ever seen, their first reaction is to share it with all of their friends and followers," said co-founder Alana Arnold.
This unboxing experience is wild @LastCrumbCookie pic.twitter.com/R08AZ0Q3nb

— Zach Stuck (@zachmstuck) August 13, 2021
"Now more than ever, consumers are interacting with brands on a screen to determine what they like," Arnold continued. "We think we've done a great job of capturing the essence of our brand in our content."
"Content" is an important word, because ghost kitchens have also created an entry point to the restaurant industry for content creators with large online followings. Even if those content creators aren't chefs, they have partnered with foodservice professionals and worked backward from their brand and audience to build successful concepts.
Mr. Beast, for example, is a video creator with one of the largest accounts on YouTube. His ambitious stunts have earned him more than 67 million subscribers. In 2020, he saw an opportunity to parlay his brand and the low barrier for entry of ghost kitchens into a concept called Mr. Beast Burger, which launched with 300 delivery locations across the U.S.
I just launched 300 restaurants nationwide! Just go on your favorite delivery app and order a MrBeast Burger! WE'VE BEEN WORKING ON THIS FOR FOREVER AND IM SO EXCITED! pic.twitter.com/hn7tXeWrOu

— MrBeast (@MrBeast) December 19, 2020
"When experts talk about virtual restaurants, they talk about 'intelligently leveraging brands' and establishing 'brand-cohesive touchpoints,'" said Kristin Hawley of Eater. "It's more jargon than you'd expect when talking about an upstart casual restaurant, but many concepts are the result of digital strategies calculated to help stand out in a crowded market."
One could argue whether this is good or bad for the restaurant industry, but the fact remains: it works. Mr. Beast Burger has expanded to Europe and has 900+ locations, and it is already spawning copycats from other YouTubers.
Not everyone has the built-in advantage of large social media followings, but if they're willing to follow the DTC playbook, take ownership of their online presence and embrace data-driven digital marketing, they can succeed where they previously couldn't. And because of that, more people will try.
4. Key Restaurants Adopting Ghost Kitchens Will Drive Innovation
Despite how far they've come in the last 18 months, ghost kitchens remain in a "nascent phase of evolution," according to Kristin Barnett, director of strategy at ghost kitchen technology company Zuul. However, by the same token, Barnett thinks the space is "ripe for innovation."
"The virtual space allows for a certain degree of flexibility and the ability to be nimble to adapt to consumer preferences," Barnett explained. "So operators shouldn't shy away from innovation or creativity by any means."
Helping the cause is a recent series of investments from large restaurant brands. Wendy's, for example, plans to open 700 new ghost kitchens by 2025, while Chipotle, Five Guys and even retailers like Walmart and Kroger have entered the space in ways that make sense for their businesses.
Investment of this magnitude creates a flywheel of innovation. For example, today's ghost kitchens are constrained by foods that "travel well," which leads to an abundance of menu items such as grain bowls, sandwiches and pizza. This creates an incentive for companies to invest in delivery and packaging solutions, expanding the breadth of foods that travel well and allowing new concepts to open as ghost kitchens. This further drives consumer adoption of ghost kitchens, which leads to more investment, innovation and so on.
Packaging solutions are just one example of areas where ghost kitchens can innovate. In a guest column for The Spoon, Warren Tseng, a strategic advisor to ghost kitchen company JustKitchen, mentioned autonomous food delivery and AI-informed menu development as trends to watch while the ghost kitchen space matures. If ghost kitchens successfully pilot those solutions, it would also start the flywheel mentioned above.
Predicting the specifics of innovation is always difficult, but predicting where innovation will occur is often straightforward. When a critical mass of smart, resource-laden people invest in an area with ample room for growth, innovation typically follows. 
And when it does, the sky becomes the limit.
DEMO REQUEST
Want to stand out online? Let's chat.
We'll help you drive revenue directly through your restaurant's website.
Recommended
Opinion
Why Restaurants Must Evolve as Employers
September 16, 2021
Enhanced unemployment benefits were not the only reason for the labor shortage. As worker priorities change, the restaurant workplace needs to change with them.