COVID-19
Social Media Marketing for Restaurants in the Age of COVID-19
April 15, 2020
Part two in our series on digital marketing for restaurants in the age of COVID-19, with tips on social media marketing from Madeline Grenadier of Digital Society LLC.
This is a great time to get your brand in front of diners and to acquire new future regulars. As people continue to work remotely, screen time is up. A bigger audience directly converts to much-needed revenue. We've established the importance of optimizing your restaurant website in the age of COVID-19 to effectively communicate with your guests. Your social media marketing strategy is a great way to further your outreach.
As part of a 3-part series on digital marketing for restaurants in the age of COVID-19, we spoke with Madeline Grenadier, Founder & CEO of Digital Society LLC — a leading digital marketing agency in Austin, TX — to get some tips and insights on social media marketing for restaurants and a few actionable ways to optimize your strategy for increased exposure.
Social Media Advertising for Restaurants
Social media advertising for restaurants through the right channels doesn't have to be expensive. According to Grenadier, "it's fairly inexpensive to start advertising through social media. A good place to start is on Instagram." It's simple to create sponsored content through their platform. All that you need to get started is: 
Image, set of images or a video

Caption text or (copy) that corresponds with the image(s) or video

Call-to-action (CTA) link that asks the user to do or perform a function

Audience type

Budget
Next, you should have a clear objective or goal. For example, if you're only operating for pick-up or delivery, your goal is to convert viewers to order online from you. With Instagram, it's simple to promote an existing post to an audience if you have already shared about your to-go services. However, if you're hoping to create a new post to promote your to-go services, start by taking a high-quality photograph of your food in a branded to-go box. This can easily be shot using your iPhone. Make sure it's visibly appealing. The Meatball Shop does a great job of promoting their to-go cocktails below. Also, social media templates make it easy to keep your newsfeed fresh. Must Have Menus has hundreds of social media designs for each social platform.
The Meatball Shop promotes to-go cocktails on their Instagram account.
Next, add corresponding copy that informs the viewer or your guests what you're offering. Make sure the CTA is clear and direct. In this case, Hart's informs their followers about their purveyor goods shop, with instructions on how and when to place orders.
Hart's promotes their online store for pick-up
This is an example of a post that would be easy to "boost" to a wider audience in hopes of getting more paying customers. This formula can be replicated across many marketing channels besides Instagram. Try it on Facebook or via Google Ads. This isn't limited to promoting online ordering. Promote gift cards, merchandise, meal-kits and more.  
Finding What Type of Content Works Best for Your Business
For first time users and advertisers, Grenadier suggests searching for Facebook tutorials on how to advertise on their platform or to find a step-by-step instructional guide. She does warn that Facebook automatically sets a fairly large budget, so be sure to adjust according to what you'd like to spend. Continue to pay attention to every aspect of your advertising campaigns. What type of content is performing best? Is it photographs of your food? A photograph of your chef cooking? What about messaging? What type of messaging are people responding to most?
Testing is important. When you find something that works, it's easy to replicate that formula for maximum results. Grenadier says, "Absolutely know your clients. When is your customer base online? Analytics from your previous advertising campaigns will provide all of the data you need to choose what content works best and when to advertise it."
Tips on Content Photography for Social Media for Restaurants
If you don't know what type of content to use, it's best to start with the low-hanging fruit. "People tend to always respond well to photographs of appetizing food and drinks. Not everyone has a photographer on hand. However, you can take great images yourself. A few steps to take: Get inspiration from other restaurants that you follow. What types of photos are they taking? Use their photos as a stepping stone to create your own unique content." We highlighted some do's and don'ts when taking images for your own content below:
Here are some examples of bird's-eye photography that performs well and is aesthetically pleasing:
Examples of top-view "bird's eye" food photographs
Use Local Influencers to Spread the Word About Your Offerings
Hiring influencers to promote your brand can often be pricey and finding the right influencers who will showcase your brand best can be time-consuming for a restaurant operator. However, because of the impact that COVID-19/Coronavirus has caused on restaurants, many local influencers are willing to share — pro bono — according to Grenadier. These are a few ways to find the right influencers.
1. Find influencers in your city through a simple Google search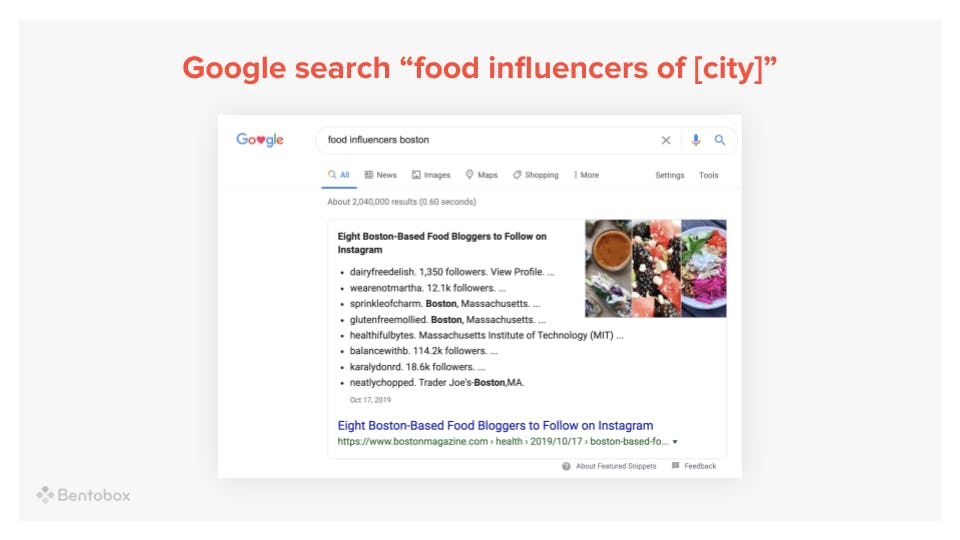 A simple Google Search will bring up lists that local media and bloggers have created, highlighting the influencers and critics in your city.
2. Search Instagram for local food hashtags to find influencers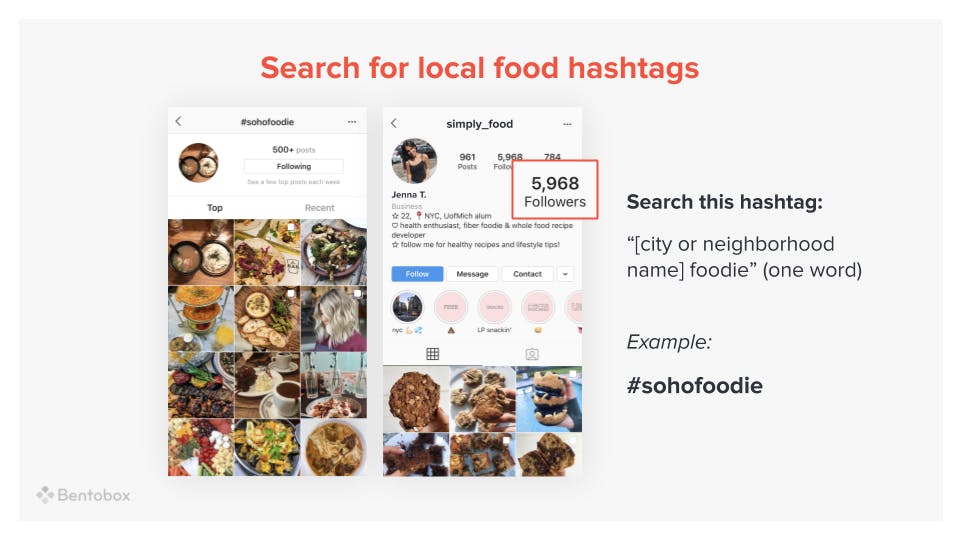 Search Instagram for hashtags related to food or foodies in the city or state you live in.
3. Make it easy for influencers to share by packaging your content
Make it easy for local press or influencers to share. Create a small press kit by providing images, copy and links for influencers and local press to share on their platforms. By giving them everything they need, it will further encourage them to share with their followers. 
Use your guests as mini-influencers. Encourage them to post when they receive their order. Ask them to tag your restaurant's profile. To take it one step further, repost all of those who are tagging and sharing your brand to your Instagram story. This is a great way to create quick and easy content. Comment when someone shares. Be sure to thank them for supporting your business.
Next Steps
Social media marketing for restaurants is more important than ever to bring more business your way. If you're interested in learning more about ways to market your restaurant right now, feel free to reach out to your account manager here at BentoBox or get in touch with Grenadier and her team at www.digitalsocietyllc.com for expert consultation and services. 
Recommended